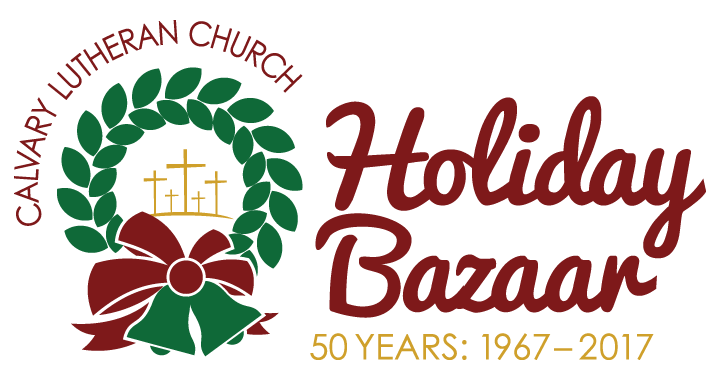 Calvary 50th Holiday Bazaar
Calvary's 50th Annual Holiday Bazaar "Joy to the World"
When: Saturday, November 11, 9 a.m. to 3 p.m.
WHERE: Calvary Lutheran Church and School — 6111 Shelby Street, Indianapolis IN 46227
WHAT: Shop at the Attic, Kitchen, Silent Auction, and many other booths
ADMISSION: Canned food donation appreciated
PROCEEDS TO BENEFIT: Calvary Lutheran Church & School (by donating tables and chairs), Joy's House Adult Day Center, and Angel Tree Christmas - Prison Fellowship.
LIKE TO BE INVOLVED?
Vendors: Last year's vendors have first choice to renew their booth by September 1st so watch for general booth sales to open soon.
Volunteers: The Holiday Bazaar needs a lot of volunteers. Helpers needed before, during and after November 11. Time commitments vary and some tasks can be as simple as making phone calls. Watch for the sign up forms in the narthex and online.
Attic Donations: We will need used-but still loveable-donations for the Attic. The Attic cannot accept donations of shoes, clothing, building materials, or large electronics. Plan to price your donations. Since space to store attic items is limited at Calvary, PLEASE bring your PRICED donations Friday, Nov. 10th from 3:30-7:00pm or Saturday, Nov.11 from 7:30-9:00am. If that is not convenient for you, please ask someone to bring them to Calvary at that time.
Auction Donations: We will need new or good-as-new donations for the Silent Auction. Donation forms for goods or services for the Silent Auction may be found on the LWML table in the narthex. These should be returned to Shari Shaker. We must have the items by Oct 22.
Country Kitchen: We will need homemade goods like noodles, brownies, fudge, cookies, candies, breads, cakes, and pies.