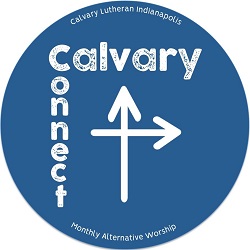 Calvary Connect Contemporary Worship
Beginning in April, Calvary Lutheran Church & School will offer a new contemporary worship experience called Calvary Connect. These worship events will provide a relevant and meaningful service for those who are not otherwise discipled through weekly services. Calvary Connect worship events will meet people where they are, connecting them to their Savior and other believers. Because these events will be shorter in time than Calvary's normal worship services, have refreshments offered throughout, and have a more casual atmosphere, we hope that they will appeal to busy families, newcomers, and infrequent visitors.

The kickoff for Calvary Connect is Sunday, April 22, 2018 from 10:30–11:15 AM.
After this — beginning May 13 — Calvary Connect events will be held the second Sunday of each month from 10:30–11:15 AM.
All Calvary Connect worship events will be held in the Calvary Gym.
Check out our Calvary Connect Facebook page!
Calvary Connect worship events will be an experience that you can't find in our other services or offerings; services will be different and unique. We hope you will invite your friends and family to join us!