Yard Sale 2023
Saturday, June 03, 2023, 8:00 AM - 3:00 PM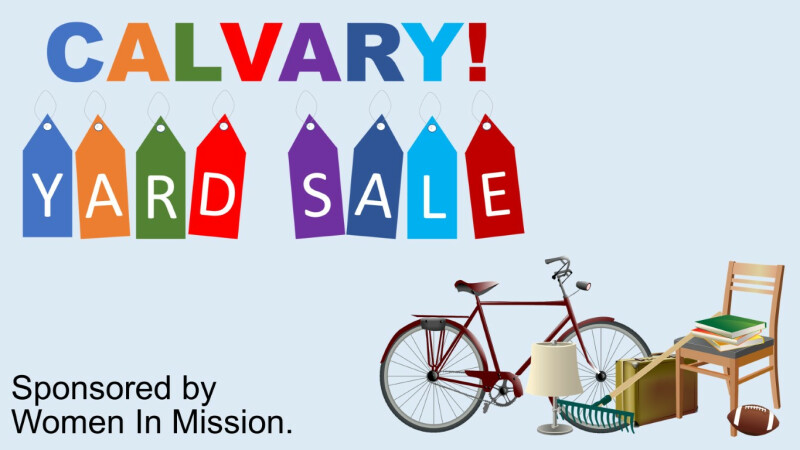 Calvary Yard Sale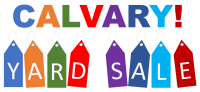 Calvary Women in Mission are hosting a churchwide yard sale on June 3, 2023, in the school Gym.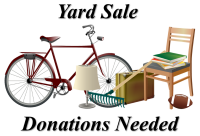 Gently used household items should be pre-priced. No clothing or shoes can be accepted. Thank you for holding donations until the week before the sale!
Here are some of the types of items we're looking for:
Books • Toys • Crafts
Tools • Sports Gear • Sheets and Blankets
Dishes, glassware • Garden Items • Games
Kitchen Appliances • Antiques • Jewelry
Towels • Home Furnishing Items • Pet Supplies
Yard Sale Donations may be dropped off at the gym during the following dates and times.
Tuesday, May 30: 9:00 – 11:00 AM
Wednesday, May 31: 1:00 – 3:00 PM
Thursday: June 1: 9:00 AM – 1:00 PM and 5:00 – 7:00 PM
Friday: June 2: 3:00 – 7:00 PM
Funds from the Yard Sale support Midwest Food Bank Indiana, a faith-based organization that provides food to nearly 300 agency partners in Indiana.
Volunteers Needed!
The June 3 yard sale in the school Gym needs many volunteers before, during, and after the sale. Please sign up at clcs.org/yardsalevolunteer.
All volunteers have the option to shop early beginning at 7:00 AM the day of the yard sale. No other early shopping is permitted.
Contact Paula Fisk or Candy O'Bryan with questions.