2021 Calvary Walk | Run | Ride
Friday, May 07, 2021
Calvary's Cross Walk, Run, Ride is back!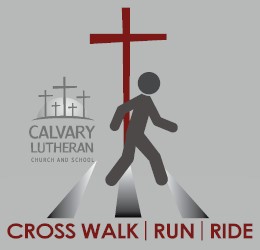 COVID won't hold us back again.
Calvary's students will be walking or running and participating in other healthy exercise on Friday, May 7, 2021. Students and staff have a goal of raising $10,000 this year. All money raised will be used to benefit our students by providing needed programs, technology and equipment. Students will also earn prizes as they reach different levels of pledges.
Please consider making a pledge to a Calvary student or making a donation to be used for prizes.
Questions can be directed to Dawn Schultz ( ) or Jennifer Skojac ( ).
Thank you for your continued support of Calvary Lutheran School!
We have great news!
Thrivent has provided a link for online donations, 100% of the donation goes to Calvary. In order for a specific student to receive credit for the online donation tell them to add your name, donation $ amount and write "online" on their pledgeform. The link is: thrivent.cotribute.co/events/500366/detail.