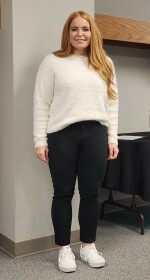 A full complement of Lunch and Learners came to the October gathering to hear Rachel Gilmore an Air Traffic Control (ATC) Specialist. She is a New Orleans native, graduate of Embry-riddle Aeronautical University, and has a daughter in the third grade at Calvary's school.
Rachel has been an ATC for 14 years, with the last seven years at Indianapolis International Airport. There are three distinct areas of ATC — tower operators, radar approach operators, and area controllers. Tower operators deal with landings and take-offs, radar approach operators handle aircraft within 14 miles and area controllers are responsible for aircraft 50 miles out and up to 13,000 feet.
She explained the job can be relatively calm but can be stressful at times. Early in her career in New Orleans, the weather presented a very low cloud layer and very shortly after take-off, a pilot reported instrument failure and was turning around. The only instrument available in the aircraft was a heading indicator. The communication to the pilot could only be "turn left," "stop," "turn right," "stop," etc., until they could line up the aircraft with the runway. Fortunately, the aircraft did land safely with only the landing gear stuck in the mud off the runway.
There are 21 radar approach centers in the U.S., and they are connected in "chunks" so aircraft in flight can be "handed off" as a long flight progresses. Rachel stated the U.S. has the safest control system in the world.
Rachel's presentation was interspersed with many questions:
Work hours? Basically, an eight-hour shift — two hours at a screen with a break before returning. Rotate with other controllers. There are strict "fatigue rules" and protocols. She is a local union representative and explained they have a contact with the federal government. Controllers have grade levels of 4 through 12. Mandated retirement age is 56 years old.
Drones? This is the latest addition to their duties. The "Reaper" drone is a ground controlled un-manned aircraft flown on training missions by the Ohio National Guard in our control area.
What happens if your screen has an electronic malfunction? There are backup systems to provide redundancy.
Her pet peeve? Pilots that do not acknowledge or respond to the controller's instructions. If no response in five minutes they try other means of contact. Military response is a last option.
Language problems? English is the worldwide standard for pilots and ATCs. Rachel has experienced that some descriptive words of weather conditions that we might understand are not always understood by pilots of other nationalities.
Anything unusual about Indianapolis air space? The FedEx facility has a high volume of cargo aircraft, especially during a holiday season. Aircraft come in 11:00 pm – 1:00 am and depart 4:30 am – 6:00 am. UPS and Amazon aircraft are also in our area.
Controller training? Averages two and a half years to be certified. A five-month period at the Oklahoma City training facility learning on various simulators.
Any contact with satellite airports like Greenwood? Since they do not have a tower, she cannot control aircraft other than tracking them to approximate location.
Availability of ATCs? There was a shortage of personnel before COVID-19. No training for two years made this worse Indianapolis employs 342 ATCs and support personnel the tower operation employs 30 personnel.
Transatlantic flight control? Multiple crews allow rotation of pilots per fatigue rules. Extended flight over the Pacific can experience "dead spots" but aircraft are spaced much farther apart than normal.
Everyone likely learned much about air traffic control from Rachel's informative presentation.
Submitted by William Boyd (the actor) — AKA ???