"But when the kindness and love of God our Savior appeared, He saved us, not because of righteous things we had done, but because of His own loving-kindness. He saved us through the washing of rebirth and renewal by the Holy Spirit, whom He poured out on us generously through Jesus Christ our Savior…" (Titus 3:4-6).
What is Baptism?
Baptism is a sacrament—a "holy" (sacra) "action" (mentum)—of the church. In Baptism, our merciful God is acting in a special way to create a new spiritual life in the person being baptized. Baptism is our entrance into fellowship with God and into the Christian community of believers.
Why do we baptize infants and young children?
Lutherans baptize infants and young children because (a) we believe it is the command of Christ Himself in the Great Commission to make disciples of "all" nations (Matthew 28:19), (b) we believe it is God's gift "for us and for our children" (Acts 2:38-39), (c) because it was a known practice in the earliest days of the church (Acts 16:30-34), and (d) Jesus welcomes the little children, "Let the little children come to me, and do not hinder them, for the kingdom of God belongs to such as these" (Luke 18:16).
Since Baptism is a grace event, it is all God's doing. It does not depend on our qualifications, any powers or goodness in us, or our mastery of religious teaching. God freely accepts all people through Christ, regardless of age or intellectual ability. Knowledge is important as a child matures, but God begins with a relationship. In the same way, a good human parent loves and embraces a child in relationship, and does not first require their baby to understand them, or even respond to them. Of course, we are thrilled whenever that happens and so is God. We, therefore, commit ourselves to raising our children to know and respond to God, and live under Him by faith.
What is the role of parents in a Baptism?
BEFORE Baptism – parents are to understand what we believe and teach concerning Baptism. They are encouraged to choose Christian sponsors who will pray for, care for, and provide a Christian example for their godchild.
AFTER Baptism – Baptism is both a gift and a responsibility. God grants the gift of new spiritual life and also entrusts to parents a responsibility to nurture the seed of faith that He has planted in their child by living out their faith at home and in the church.
What happens during the Baptism Service?
Ordinarily, Baptism takes place during one of our regularly scheduled worship services. In special cases, we can arrange for Baptism at times outside our worship schedule either in the home or at the church. The baptism service includes:
Invocation & Scripture Readings
A Promise by Parents and Sponsors
A Confession of Faith using the Apostles' Creed
The Act of Baptism
A Welcome & Prayer
What are Sponsors asked to do and promise?
Sponsors, or Godparents, are called to witness that a child was baptized and to support their ongoing growth in the Christian faith. Following the Baptism, Sponsors are asked to:
Be an example of Christian faith in the life of their godchild.
Remember their godchild frequently in prayer.
Help their godchild remember his or her baptism. This can be done through religious gifts (bible, cross, storybook), special activities (dinner, dessert, etc.), cards/phone calls, or anything that helps the child "celebrate" their baptism birthday annually or at any time throughout the year.
How can I schedule a baptism?
Contact the church office 317-783-2000 to discuss questions you may have, possible dates that work both for your family and the church calendar, and other necessary contact and biographical information.

"Then the man said, 'This at last is bone of my bones and flesh of my flesh…' Therefore a man shall leave his father and his mother and hold fast to his wife, and they shall become one flesh" (Genesis 2:23-24).
Our Beliefs about Marriage
Marriage was instituted by God and is one of the fundamental orders of His Creation from the very beginning (Genesis 1-2). In a Christian wedding, a man and woman promise to bind themselves, and all they are and have, to a life-long union under God. They promise to love and support one another in all circumstances, as they voluntarily submit themselves to one another out of reverence for Christ (Ephesians 5:21).
The wedding ceremony is an opportunity for a couple to ask God's blessing on their marriage as husband and wife and to give Him thanks and praise for His continued grace and forgiveness. Because it was God who instituted marriage, it is with His promise that we begin a marriage. It is for this reason that we only perform Christian wedding ceremonies.
Who can be married at Calvary?
We gladly perform weddings for our Calvary members. Because our values and religious beliefs determine who we are and how we live, it is very important for couples to understand each other's beliefs and religious backgrounds. We, therefore, strongly encourage a couple to attend one of our Foundations of Faith new member classes together, when Calvary members become engaged to someone of a different faith background.
We do not regularly perform weddings for couples not connected with Calvary. We, however, may make an exception for non-member couples seeking to grow their life and marriage under God's blessing; to establish an ongoing relationship with a Christian congregation; and are willing to participate in a Christian instruction class and pre-marital preparation.
Initial Arrangements
We ask couples to contact the church office and arrange a meeting with one of the pastors as soon as possible after becoming engaged. Nine months to a year is not too soon. We cannot guarantee but will attempt to accommodate a couple's request for a specific pastor as we mutually plan our ministry at Calvary. All couples having their wedding at Calvary are asked to participate in a program of pre-marital preparation.
Video Option
Calvary's video ministry is available to live stream and record weddings if desired.
Live Streams are available at the time of the wedding service, normally as a private stream on YouTube.
Recordings can be made available on DVDs or a USB thumb drive. If you would like DVDs, please let the pastor know how many copies you need.
Please let the pastor know if you desire this video option.
Please contact the church office at 317-783-2000 to find out more information, to request a date on our church calendar, or to schedule an initial meeting with one of our pastors.

As Christians we have a unique perspective on death, a perspective that is radically different from the world around us. The Scriptures teach that death is the separation of our eternal soul from our mortal bodies. At the moment of death, our souls, and the souls of all those who die in faith, immediately are in the presence of Christ, and will enjoy His presence, peace and joy until the great day of the resurrection of all flesh.
Calvary provides funeral services to congregation members, their families, and the community.
If you have the need for assistance dealing with death or a funeral, please contact us — our contact information is shown below.
Commonly Asked Funeral-Planning Questions
Eulogies & Scripture Readers
While it is in no way required or even expected, many families have asked for a family member or close friend to share a few words about their loved one who has died. If you choose to have someone speak at the service, we encourage you to consider the following:

Choose wisely who you would like to speak.
Focus upon the theme of "Thanksgiving for the Life and Faith of ___________." This is a time to give thanks to God for the ways he has blessed us through the life of this person. It is also a time to comfort ourselves in the testimony of faith observed within their life.
Prepare clearly-written notes. If the person is unable to finish, the pastor or other family member would be able to step in and share the rest of what has been prepared, if it is clearly prepared.
We do not provide an "open invitation" for anyone who would like to share a few words. If you would like to provide that opportunity, it is better-suited to the visitation or the funeral meal.

If you choose, you may invite family and friends to read the Scripture lessons.
Photo/Memorabilia Displays & Slideshows
Photo Slideshows: If you would like to show pictures of your loved one on either the Sanctuary screen or on the Narthex TVs, please provide either the professional DVD provided by the funeral home or a selection of electronic photo files on a CD disc or flash drive.
Display Tables: The funeral home usually provides easels for picture displays, but if you would like to display photo frames, scrapbooks, or other memories, please let us know how many tables you would like in the narthex.
Flowers: display stands provided by funeral home. If you desire to leave one or two arrangements for the upcoming weekend service, please leave them on the steps at the front of the sanctuary.
Funeral Meals
Calvary offers to host a funeral meal for the families at all member funerals.
The funeral meal ministry provides the paper goods, lunch meat, rolls, coffee, iced tea and lemonade necessary for the number of guests estimated by the family.
The people of Calvary Church and School will also donate an assortment of sides, salads, and desserts.

Note

: We encourage the family to consider making a financial contribution to help cover these expenses. You may make a donation to "Calvary Lutheran Church" in the church office, clearly marking your gift "Funeral Meal."
Since many have asked for guidance regarding an appropriate amount, we have come up with the following suggestion. A donation of $2-3 per person attending the meal should cover the main expenses of the meal.
If the family desires to have a different main dish for the meal (e.g. fried chicken, baked ham), they are responsible for the ordering and delivery of the catered dishes to the church.

Alternate Option

: If you do not desire a full meal, we can instead provide a fellowship time of desserts and appetizers. This has been helpful to those families who have hosted an afternoon funeral or for those services that had no graveside committal at the cemetery.
The meal is typically held in the North Narthex. If you are expecting to have a large number in attendance for a funeral meal, keep in mind that the gymnasium is not always available during the school week.
While an open invitation to the funeral meal is often offered to all who attend the funeral service, many times it is the extended family members and very close friends that choose to stay for the meal. If you would like those outside of your family to be in attendance, we encourage you to personally invite them to attend.
Memorials
A memorials box will be placed in the narthex for those who choose to donate in memory of the deceased. You may designate memorial funds to Calvary Lutheran Church and School in general, or you may designate donations to a specific area of ministry (e.g. General Fund, Church Endowment, Calvary School Schwark Endowment, a current special appeal or capital campaign, other designated ministry areas or groups).
Calvary's "Memorials Secretary" is charged with helping track memorial gifts, so that he or she may express Calvary's appreciation with members of the funeral family and other memorial donors.

Individual notes of appreciation are sent to donors at the time of their gift.
About three months after the funeral when the majority of memorial gifts have typically been received, the Memorials Secretary will send a letter of appreciation to the funeral family. If the memorial monies have not been previously designated either by the family or by the donor, further conversation may take place at this point of where the family would like the monies to be directed.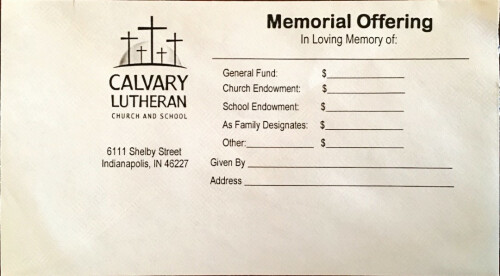 Video Option
Calvary's video ministry is available to live stream and record funerals if desired.
Live Streams are available at the time of the funeral service, normally as a private stream on YouTube.
Recordings can be made available on DVDs or a USB thumb drive. If you would like DVDs, please let the pastor know how many copies you need.
Please let the pastor know if you desire this video option.
Funeral Servants
Typically, the pastors and organists of Calvary conduct all funeral services at Calvary. If there is a family member or close family friend who is a servant within the LCMS that you would like to involve, please speak with the Calvary pastors.
In most cases the Calvary pastor who is not preaching at the weekend services will provide the funeral sermon, while the other Calvary pastor will lead the funeral service.
Contact Information