Her title was "A Second Chance for Life: Organ Transplants." Allyson was accompanied by her father, Bob, with a story of his own, and her fiancé, Derek. Derek and Allyson are planning their wedding at Calvary later in the year.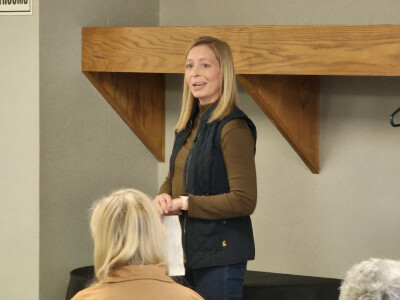 Allyson currently works as a nurse practitioner at Riley Hospital for Children. Her focus is working with kidney transplant patients ages 3 to 25. She had previously worked with heart transplant patients and found the interaction between medical staff and the patient was critical to the patient's success. As a kidney transplant patient herself, she was drawn to working in that area.
As a Kindergarten student in 2000, an abnormal urine test showed her kidneys were small. Tests in 2009 revealed her kidneys were not growing as she grew up. Tiredness and other characteristics indicated a kidney transplant would be needed. A transplant from a living donor required much testing to determine a match. Thankfully, after much testing, her mother was determined to be a living donor match and the procedure was done in 2010. After only five days in the hospital, she could feel an increase in her energy level. The first year had a lot of follow-up appointments, but she was able to attend University of Indianapolis and subsequently graduate from the Nurse Practitioner program. She enjoys working with the younger children undergoing transplants and emphasizing the need to take the medication to avoid organ rejection.
Allyson's father, Bob, spoke of his liver transplant, as he was afflicted with too much iron in his blood. Previously this was managed by his frequent blood donations, but a medical decision reversed this policy and he no longer donates. A cancer condition treatment was temporarily a solution, but doctors said the cancer would come back. When that did happen, he was placed on the transplant list. In 2021 the transplant took place and, although the blood disorder still exists, it is deemed to be very slow growing. Bob also emphasized the need to be diligent in taking the medications and staying hydrated.
Questions and Answers:
• Any age limit to get a transplant? For kidney transplant, a 10 year life expectancy is a guideline. For cornea, tissue, bones, etc., age is not a limiting factor.
• How did she keep up with her education through this? Allyson said her brother tutored her and now e-learning is a great help.
• How many medications are taken? Bob has six; Allyson has eight. The key is being diligent in taking the medications twice a day.
• Any dialysis necessary? Allyson said she did not require the blood filtering dialysis. However, this can be done at home or at a dialysis center.
• How long do you need to take medication? A lifelong process – 50 year experience is not unusual. You need to eat healthy and take care of yourself.
• For Bob – Can you use alcohol with liver transplant? Doctor will not give permission. He does receive communion and may use wine sparingly.
• What about the living donor? Allyson's mother spent three days in the hospital. Children's expenses are covered by Medicaid and Bob said you will definitely max out your out-of-pocket limit on your insurance coverage. Bob stated regular blood donations may have slowed the build-up of iron casing he condition.
Submitted by Butch Leal aka???