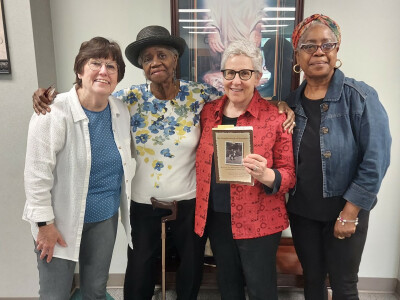 A lively crowd showed up for the May meeting to hear Dr. Susan B. Hyatt, Professor of Anthropology, IUPUI. Dr. Sue spoke about "The Neighborhood of Saturdays: Memories of a Multi-ethnic Community on Indianapolis' South Side."
Accompanying Dr. Sue were "Miz Pete" and her daughter Beverly, who lived in the community and experienced the disruption and hardship caused by the construction of the interstate highway cutting through the area. From the 1900's through the 1950's this area was predominately populated by Jewish and African-American families. The people were very welcoming and helped each other without regard to race or ethnicity.
Students at IUPUI recently look on a project to chronicle the stories of the families disrupted by the highway construction. A scan-a-thon collected oral histories, photographs, and memorabilia from surviving family members and the students published their work in a book, unfortunately now out of print but available online at https://scholarworks.iupui.edu/handle/1805/22518.
Shapiro's Deli is about the only surviving business in what was a thriving neighborhood. The several synagogues in the area no longer exist. Businesses in the area, such as the Oriental Theatre, B&M Tavern, as well as schools #12 and #22, are now said to be "under the highway."
The Communal Building on Morris St. was purchased from the Germans by the Jewish as a settlement center for citizenship classes. This became the Concord Center in 1958 and was later rebuilt in 1982.
Miz Pete vividly recalled the hardships of the families forced to move from their rental houses with only a few days' notice. Many families moved to the east side of the city. She emphasized families were very close and looked out for one another.
Dr. Sue closed her presentation by saying the book on this student project can be read for free by searching https://scholarworks,iupui.edu/handle/1805/22518 or Google "Neighborhood of Saturdays."
As this was Emily Spelde's retirement from Lunch and Learn, she was presented a photo montage of several events she orchestrated over the years. Not a tear was shed, but everyone is indebted to her for her dedication to the group.
Submitted by Duncan Renaldo (AKA ???)