What a year 2020 was! — What a year 2021 is starting out to be! The COVID-19 pandemic has changed the lives of most people and has had a dramatic impact on churches. From closing sanctuaries to limiting attendance, churches have had to react to continue ministering to their members. For Calvary Lutheran Church & School in Indianapolis, this meant quickly moving forward with a video ministry program.
Calvary had been discussing video ministry for many years, but the pandemic changed this from something we should do to something we must do now. In less than a week, some "techies" in the congregation threw together a system to live stream all three worship services on March 13 and 14, 2020. This entailed one camcorder and a laptop. Not a professional setup by any means, but effective none the less.
Soon after this, congregations were instructed to close their sanctuaries. We no longer had live services to stream, so we started pre-recording worship services during the week, making them available on the weekends. Pre-recorded services continued to be offered every weekend throughout much of the year. But this was still being done with a single camcorder.
We soon realized that the pandemic was not going away anytime soon, that this new way of offering worship would be beneficial long-term, and that a single camcorder would not be a viable solution long-term. In the summer of 2020, Calvary began working on a permanent, professional solution to video ministry. Engaging a local AV firm, Calvary created a video environment that featured three remote controlled cameras, a video production switcher, a video recorder, and software to live stream to the internet. This was a major investment for the congregation, but necessary and very effective. Our first pre-recorded worship service with this equipment was for the weekend of October 31/November 1, 2020, and the first live stream was on Thanksgiving Eve, November 25, 2020.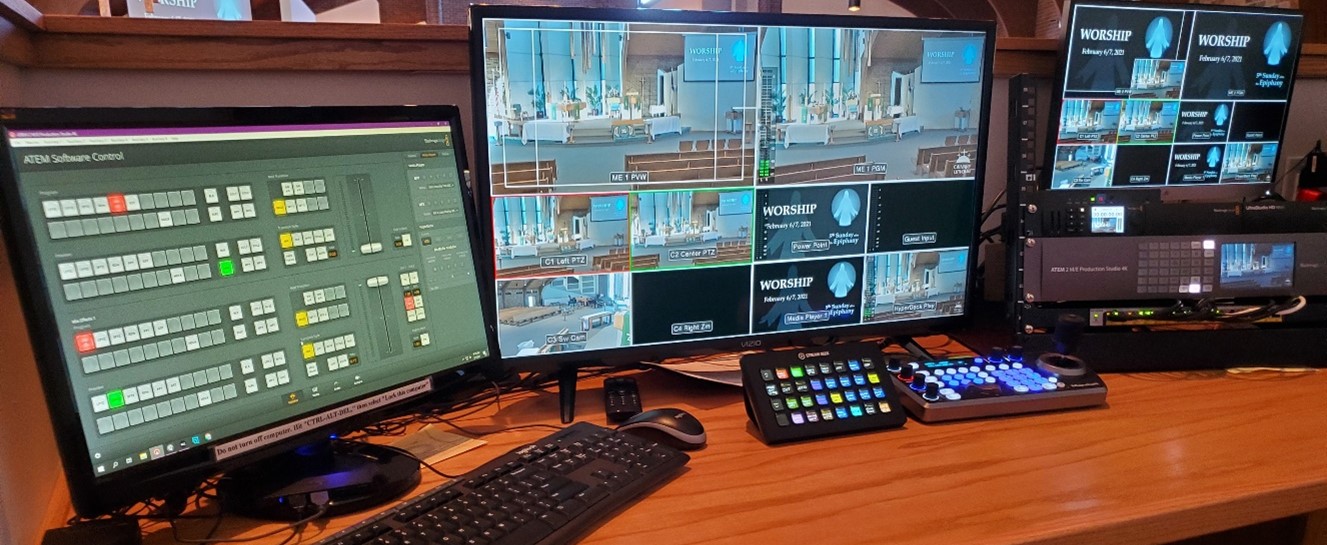 Calvary live streams on our website (clcs.org/live), our Facebook page ("Calvary Lutheran Church and School Indianapolis IN"), and our YouTube channel ("CLCS Indy"). Following live streams, recordings are available on demand on our website (clcs.org/videos), Facebook and YouTube.
Video ministry has been a great blessing to Calvary! It has allowed us to continue to reach out to our members and the community, keep our members engaged and active, and reach out to previous members and others throughout the country. God used the pandemic to open a new door of ministry at Calvary — God is good!